The Friends seek to unite all those of Irish heritage and those who just have a love of Ireland in pursuit of several goals:
Raise the funding necessary to grow and sustain the Irish Studies program at the University of Montana

Provide the community with public access to the visiting speakers, scholars, dancers and musicians who come to UM as part of the program

Sponsor evening classes for students and adults, immersion weeks, festivals, trips to Ireland, and other cultural events within the community and surrounding area.
The funds raised go towards Music, Dance, Concerts, History, Language lessons, and an Oral History projects. Without the support of the Friends, the Irish Studies program at the University would not have been able to offer courses in Irish Music or Dance over the past three years, nor would we have been able to offer a course in Irish History two years ago. In fact the success of Irish Studies over the past three would not have been possible without the help of the Friends of Irish Studies.
Montana boasts the only Irish Government supported Irish Oral History project. We were chosen because, as the consul general, Gerry Staunton remarked "the Irish of Montana are very innovative and they get things done." This innovative quality has also been recognized nationally by the Irish Ambassador who hosted Judge Molloy, Larry Daly, Tom Boland, Mike and Patricia Cotter and others from the Irish legal community for their foresight in developing a relationship between UM and Ireland that is the envy of the country.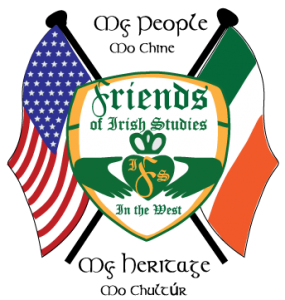 As the history of Irish Studies at UM demonstrates, the continued growth of the program is dependent on close community involvement and support. This program has the potential and is striving to become a national center of Irish and Gaelic Studies that will serve the community on a local, regional and national level. This is a conviction shared by many outside of Montana who are amazed at the energy, creativity and support of the community.
The Irish of Montana are creating something of national and international significance. We will only be successful in achieving our objectives with your support. This support will see the program grow and the day come more quickly when anybody wishing to learn Irish language, music, dance or to study the history and literature of the Irish will come to Montana. In this way we will ensure that the history and culture of the Irish, the history and culture of our forefathers passes down to the next generation. Their values and heroism laid the foundations for our success and they will form the foundation for the success of our kids and grandkids. I ask that you consider helping us pursue these worthy objectives to the extent that your resources will allow.
Supporting the Irish Studies Program at the University of Montana Promoting Irish heritage in the West Passing on Irish culture to the next generation.
Become a member today.
You may also contribute or sponsor individual events.