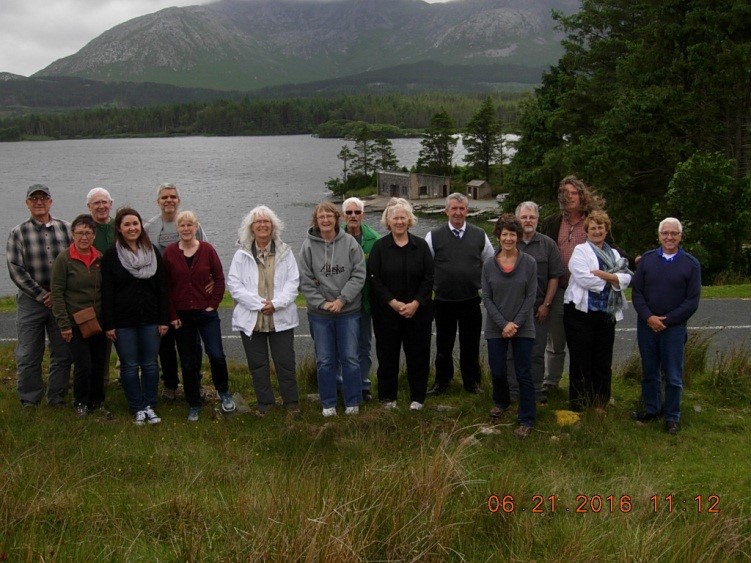 Cairde Léann na hÉireann – The Friends of Irish Studies
Join the Friends of Irish Studies on a nine-day tour of Ireland this coming summer. This is a journey home, to the place where it all began for many of you. You will see the sites, meet and talk with the people, and immerse yourself in the culture. This tour is about reconnecting with the past and with the soul of a people whose descendants live all over the world. The tour runs from June 21 to June 30, is led by Dr. Traolach Ó Ríordáin, Professor of Irish language and Literature at the University of Montana, and is limited to 20 people.
June 21:  Ag Tabhairt fé Éirinn/Heading to Ireland
Today we leave the United States and head across the broad Atlantic to Ireland. So say good-bye to Uncle Sam and hello to Mother Ireland
June 22:  Fáilte Romhat go hÉirinn/Welcome to Ireland
This morning we arrive in Shannon, County Clare on the beautiful west coast of Ireland. Pick up your bags, proceed through passport control and meet your genial host in the arrivals area where you'll receive a nice warm cup of Irish tea and a heavily buttered scone! We'll board the coach and go west to see some of Ireland's more iconic sites. We head through the Burren [from the Irish word "Boireann' meaning rocky place], an unpolluted and unspoiled expanse of limestone rock that covers over 100 square miles. The barren appearance belies the richness of life here. The Burren is home to a diverse ecosystem of Arctic, Mediterranean and Alpine plants that extends into the Atlantic to form the Aran Islands. Our first stop will be at the Cliffs of Moher to take in the majestic beauty of the cliffs and look out upon the Aran Islands. We will then head south along the west coast of Clare on our way to Dingle. We will stop in Kilrush, take the ferry across the Shannon, and on to the Dingle peninsula. We will make one stop (weather permitting) at Inch beach where Ryan's Daughter, David Lean's famous film starring Gregory Peck, was filmed. We stay that night in Ballyferriter in the Irish speaking area of west Kerry. 
Dinner and Overnight: Ballyferriter
June 23: An Daingean á Thástáil/Experiencing Dingle

Today will be spent savoring the delights of the Dingle Peninsula, a place celebrated in story, song and poetry for centuries. Our morning will begin with a trip to Slea Head and its panoramic views of Dingle Bay, South Kerry, the Skellig Rocks, and the Blasket Islands. Our first main stop will be the Blasket Heritage Centre in Dunquin, followed by a visit to the museum in Ballyferriter. It is here that we will have lunch before stopping at Gallarus and the ancient monastic site of Kilmalkedar. We return early to Dingle, leaving time to walk the town, visit the shops, restaurants and bars of this popular destination. Dinner tonight is on your own, but fish is highly recommended. The best 'chipper' in town is the Reel Inn, run by a pair of characters who would give you the shirts off their backs!
Overnight: Ballyferriter
June 24: Leithinis Bhéarra/The Beara Peninsula

The morning of June 24 will see us leave for Cork, but not before stopping in Killarney. This is where you visit Muckross House, walk the grounds, enjoy a coffee or tea, and relax. We will have lunch here and then make our way to the Beara peninsula, traditional clan lands of the O'Sullivans. They say that if you throw a stone here, you'll hit an O'Sullivan or a Harrington. We will make one stop in the Copper Mines Museum in Allihies where the connection between this part of Ireland and Butte, Montana, becomes as obvious as the nose on your face! Our final destination is Glengarrif, a beautiful little hamlet set in the Caha Mountains, and looking out over Bantry Bay.
Dinner and Overnight: Glengarriff Park Hotel
June 25: An tOileán Mór/Bere Island

Today we head west to the fishing port of Castletownbere to catch a ferry into Bere Island, at one time a major naval base for the British navy. Our tour guide will be Ted O'Sullivan, a true son of the island and a great friend of the Irish in Montana. Ted visited Montana four times where he delivered lectures at the An Rí Rá Irish festival and taught Irish language classes at that event and as part of the week-long Irish language immersion course offered every July in Butte. Our guide will immerse us in the history of his people, bring us to the sites of historical and cultural importance, and introduce us to the local community. This trip has always been a very special part of previous tours we have run and we are fortunate to have such a friend in Ted. After our return to the mainland, we'll have lunch and head back to our hotel to relax. Dinner is on your own tonight, but there is great food where you're staying
Overnight: Glengarriff Park Hotel
June 26: Contae Chorcaí/County Cork

The morning of June 24 will see us leave for Cork city, but along the roads less travelled. Our first stop will be at Gougane Barra, a place of pilgrimage rarely visited by the tourist but hugely popular among the native population of Cork and Kerry. Gougane Barra has been a place sacred to the Irish from time immemorial. It is one of those special places where the veil separating the spiritual and material world seems very thin indeed. Having imbibed the spiritual sustenance Gougane Barra we head north to St. Gobnait's Holy Well and monastic site in Ballyvourney. The church here, with its mixture of Christian and pre-Christian icons, testifies to the incorporation of the old into the new and the graveyard holds the bones of some of the greatest singers, storytellers and poets ever recorded. It is at places like St. Gobnait's that one comes into contact with the ancestral spirit and soul of Ireland. From Ballyvourney we make our way to Béal na Blath where the leader of the Irish revolution, Michael Collins, was cut down in an ambush on August 22, 1922. Many would claim that not only Collins died that day, but the hopes, dreams and aspiration of a whole generation. Béal na Blath is a place sacred to Irish nationalists, a spiritual site that draws thousands of visitors every year.
Dinner and Overnight: Cork
June 27: Cathair Chorcaí/Cork City

There is a saying that the Dublin is the real capital of Ireland but that Cork is the capital of the real Ireland! Cork is the rebel county, the largest in all of Ireland and the most active during the War of Independence. It is claimed that a full 50% of the membership of all nationalist organizations came from Cork. Cork is also home to the majority of immigrants to Montana. With its rolling hills to the east, its rugged west, and its cosmopolitan city, Cork may be taken to be a microcosm of Ireland – everything the country has to offer in one place! Today will be a mix of a tour and time on your own to wander and experience life in an Irish city. We will take a quick tour of University College, Cork, an institution that has very strong connections and an active exchange program with the University of Montana, before heading to the Old English Market and turning you loose to roam the streets of this historic city.
Overnight: Cork
June 28: Oirthear Chorcaí/East Cork

East Cork was possibly the last place in Ireland most emigrants saw before embarking for a new life on foreign shores. It is here that the town of Cobh, formerly known as Queenstown, the main port of departure from Ireland is located. It was at Cobh that the ill-fated Titantic made its final stop. Cobh is also the resting place of the victims recovered after the sinking of the Lusitania.  We will visit Cobh Heritage Center and then walk part of this beautiful seaside town, stopping at the Lusitania Monument and St. Colman's Cathedral. We will also have lunch here.
Leaving Cobh we head to the Midleton Distillery, where all the spirits come out of a bottle! Here is where such well-known liquors as Jameson, Paddy, Power's, Redbreast and many more are distilled. Everybody who takes the tour leaves feeling much, much better about of life!
Dinner and Overnight: Cork
June 29: Ag Filleadh ar an gClár/Going back to County Clare

We then head to Blarney, to the Woolen Mills and Blarney Castle. Some of you may want to kiss the stone; others may wish to do some last minute shopping - it will be up to you. The grounds around the castle are beautiful and, weather permitting, make for a great walk.
After this, we head for Bunratty in county Clare where we will tour the folk park and round off the evening with a farewell celebration of Irish music, dance and food.
Overnight and Dinner: Bunratty
June 30: Slán Abhaile/Safe Home
Make sure you have all your belongings, your bags, gifts and passports because today you leave for home. The bus will take you to the airport two hours before your flight and bid you a tearful farewell. We know that you will return again to the "Land of Hundred Thousands Welcomes" and the home of your ancestors in the not-too-distant future.
Trip Includes :
Accommodations Confirmed: 8 Hotel Nights
June 22 & 23: Ballyferriter – Dinner included June 22
June 24 & 25: Glengarriff – Dinner included June 24
June 26 - 28: Cork – Dinner included June 26 and 28
June 29: Bunratty – Dinner at Bunratty Folk Park included
Meals
Full Irish breakfast daily
5 Dinners included
Sightseeing
Clare: The Burren; The Cliffs of Moher; and Bunratty
Kerry: Lakes of Killarney; Muckross House; Dingle; Gallarus; Kilmalkedar; Dunquin; and Dingle Town
Cork: The Beara peninsula; Ballyvourney; Béal na Blath; Blarney, Cork City; Midleton
Transportation and Other
Luxury air-conditioned Coach throughout
Professional Irish Driver Guide throughout
All Hotel Taxes and service charges
Hotel Porterage for 1 bag
Reservations require a $300 non-refundable deposit by Saturday, May 5, 2018