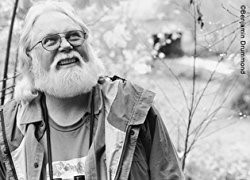 Visit Robert Michael Pyle's Wikipedia page
Selected Books:
Evolution of the Genus Iris: Poems. 2014. Lost Horse Press.
The Tangled Bank: Writings from Orion. 2012. Oregon State University Press.
Mariposa Road: The First Butterfly Big Year. 2010. Houghton Mifflin. Washington State Book Award for Biography/Memoir.
Sky Time in Gray's River: Living for Keeps in a Forgotten Place. 2007. Washington State Book Award for Nonfiction.

Walking the High Ridge: Life as Field Trip. 2000. Milkweed Editions.
Chasing Monarchs: Migrating with the Butterflies of Passage. 1999. Houghton Mifflin. 
The Thunder Tree: Lessons from an Urban Wildland. 1998. Lyons Press
Wintergreen: Listening to the Land's Heart. 1996. Scribner. Reprint edition, Wintergreen: Rambles in a Ravaged Land. 2015. Pharos Editions. Recipient John Burroughs Medal for Distinguished Nature Writing.