OREOS Undergraduate Research Symposium
Thursday, July 31st, 2014 University Center Rooms 330-331
Symposium Agenda
10:00a-12:00p Poster Set-Up
1:00p Keynote Address, Rm 332
1:00-4:00p Poster Viewing
1:30-3:30p Poster Judging
4:00p Award Announcements
The Symposium is open to any undergraduate student participating in STEM (science, technology, engineering, or mathematics) research at the University of Montana, or affiliated campuses, wishing or required to make a poster presentation to the public on their research.
The OREOS Undergraduate Research Symposium (OURS) is an adjudicated symposium. Posters will be evaluated by UM Faculty, Staff, and Graduate Students. The top three posters will receive monetary awards.
There is no registration fee for participation in OURS.
Questions regarding OURS may be directed to oreos@mso.umt.edu or 406-243-5670.
2013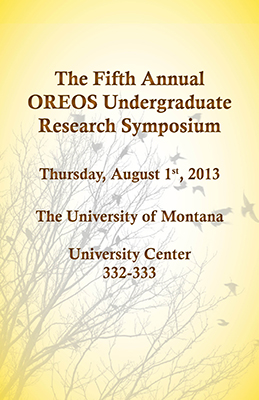 Comming soon!