The Environmental Writing Institute Setting
Western Montana's spectacular beauty surrounds the University of Montana's campus in Missoula. Formed by ancient glacial Lake Missoula, the valley and its neighboring mountains are home to about 70,000 people. Located at the confluence of three major rivers (the Clark Fork, the Blackfoot, and the Bitterroot), Missoula lies near one of the main headwaters of the Columbia River watershed.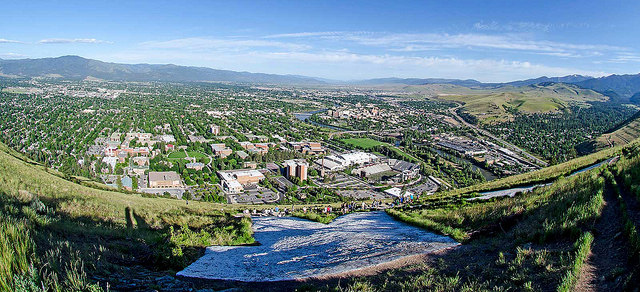 Missoula has long been a community where writers have studied, gathered, and made their homes, and the Environmental Studies Program at the University of Montana offers a unique graduate program for environmental writers, as well as the student-published environmental literary journal, Camas:The Nature of the West.  Each year's EWI leader publishes a short essay in Camas.
Participants in EWI 2016 will have the opportunity to venture into Missoula's neighboring landscapes either by arriving early or staying late--allowing themselves time before and after EWI--and also in the fall afternoons during the conference. Early fall is a beautiful time to enjoy Missoula's surrounding mountain terrain. Wildlife frequent the river corridors and hills around Missoula: red fox, deer, elk, beaver, black bear, pileated woodpecker, owls, eagles, and more.
Just south of Missoula, the Bitterroot River Valley offers access to inspiring mountain wilderness, some of Montana's premier trout fishing, rock climbing, river floating, and hiking. In addition, both Glacier and Yellowstone National Parks are within half a day's driving distance, and the Rattlesnake Wilderness Area can be reached easily by bicycle or within a 2-mile walk from a Missoula city bus stop.
The following links provide further information about the area: